Cannabis contains hundreds of chemical constituents, but the two most common are THC and CBD; the former is the main intoxicating compound that gives cannabis its iconic high, while CBD is a non-intoxicating compound widely used in health and wellness products.
The main difference between CBD and THC edibles is their chemical makeup, and therefore their effects. THC edibles will get you high, while CBD edibles won't. But know that some edibles may contain different ratios of THC and CBD, and thus their effects will vary accordingly.
WHAT ARE THE BENEFITS OF EDIBLES?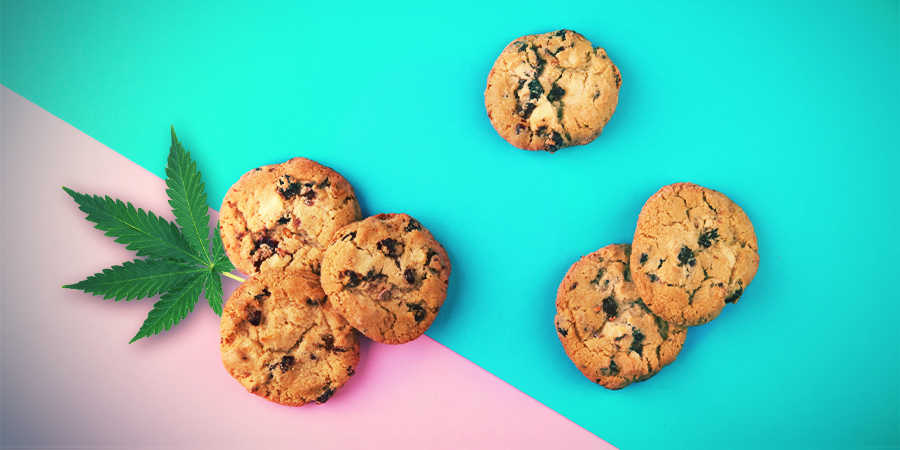 There are many benefits to cannabis edibles that make them an attractive alternative to smoking, vaping, or dabbing.
STRONGER, LONGER-LASTING EFFECTS
Because cannabis edibles are broken down by the digestive system, not only do they take longer to kick in, they also offer a slower release of cannabinoids into the body. If you're taking THC edibles, this results in a longer-lasting stone that comes on gradually.
Edibles usually contain larger doses of cannabinoids than a few puffs from a joint or vape. Also, when taking THC edibles, the compound is processed by the liver and converted into the metabolite 11-hydroxy-THC, a very potent alternative form of THC that passes the blood-brain barrier much more easily than delta-9 THC. While CBD edibles obviously won't produce intoxicating effects, they are also processed by the liver and provide a slow release.
Another benefit to taking edibles is that they can be much easier to dose. When smoking or vaporizing cannabis, your best bet at dosing is controlling the number of tokes you take. But that gives you no real insight into the amount you're consuming. Edibles, on the other hand, can make dosing a breeze.
In some legal cannabis markets cannabis edibles need to be clearly labelled with the amount of cannabinoids they contain in a single serving, ensuring consumers have a controlled and enjoyable edibles experience. Admittedly, it is a bit more difficult to dose homemade edibles, but it is still easier to do so than with, say, a joint.